22 Μαρτίου 2023
Category:

Νέα
How to Enter the Chinese Market: Different Channels and Approaches
Date

12 April 2023

Beijing Time

16:00 – 17:00

Brussels Time

10:00 – 11:00
Location

Online

Venue

Zoom

Open to

All European SMEs
With China reopening its borders, many EU SMEs are once again eager to do business with the country. Identifying the right channel and most adapted platform to enter the Chinese market is of paramount importance, as
different paths are now open to SMEs that approach China for the first time
.
To help European businesses assess their options and find the strategy most suited to their profile, the EU SME Centre is organising, in cooperation with the Italy-China Council Foundation and the EU-China Business Association, a webinar on how to evaluate available channels to enter the Chinese market. During this event, EU SME Centre Business Advisor Alessio Petino will present several entry paths and provide guidance to SMEs that would like to explore the possibilities offered by this market.

This free webinar will be held in English. Registrations are open to all European SMEs and partner organisations of the EU SME Centre.
Agenda
10:00 – 10:15Words of Welcome
Presentation of the EU SME Centre, by Davide Orlandi
Presentation of EU-China Business Association, by Gwenn Sonck
10:15 – 10:45How to Enter the Chinese Market, Different Channels and Approaches
Alessio Petino, EU SME Centre Business Advisor
10:45 – 11:00Q&A Session and Closing Remarks
About the Speaker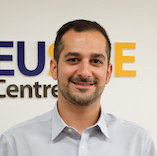 Alessio Petino
Business Advisor
Alessio has worked for 7+ years on various EU-funded projects in China, mainly conducting policy and regulatory analysis for European companies looking to enter or already in the Chinese market. Key focus areas: market access regulations and barriers, investment attraction policies, standards & compliance – with particular focus on R&D, tech & innovation.
Alessio joined the EU SME Centre in October 2020. He coordinates reports, guidelines and technical assistance to European SMEs; he also delivers training about different market entry approaches and engagements with China, opportunities and risks, as well as do's and don'ts.